International Journal of

Applied

Engineering and Technology
Int. J. Appl. Eng. Technol.
ISSN: 2633-4828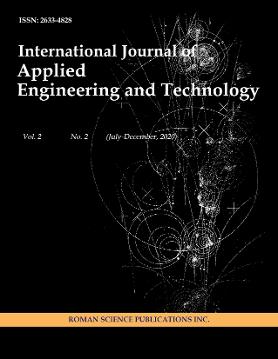 Aim and Scope
The aim of the Journal is to provide a platform for the researchers and academicians throughout the world to speedily publish, share and discuss various new findings and developments in the areas of Engineering and Technology. It invites articles containing original research work, review and views on all areas of Engineering sciences like Aerospace Engineering, Automobile Engineering, Applied Mathematics, Applied Physics, Bioinformatics, Biophysics, Biotechnology, Chemical Engineering, Chemical Physics, Civil Engineering, Computational Physics, Computer Engineering, Electrical Engineering, Electronic Engineering, Energy Engineering, Environment Engineering, Information Technology, Marine engineering, Mechanical engineering, Medical Engineering, Medical imaging, Medical Physics, Nanotechnology, Ocean Engineering, Optical engineering, Photonics, Robotics, Urban Engineering and so on...


International Journal of Applied Engineering and Technology (JET) is an open access online international journal that provides online publication of original research work, review and views on all areas of Engineering Sciences. The Journal (JET) is being published by The Roman Science Publications Inc. with an objective to promote speedy publication of research work fulfilling the general criteria of significance and scientific excellence. All articles published in JET will be rigorously peer-reviewed. The Journal will be published bi-annually.