International Journal of Applied Science
&

Engineering Research
Published in Netherlands by Roman Science Publications Inc.
ISSN: 2277-9442
Journal Metrics
Submission to final decision: 60 days

Acceptance to publication: 45

days

Subject Area: Sciences (All), Engineering (All)

All the submission must be sent on
editorial@ijaser.com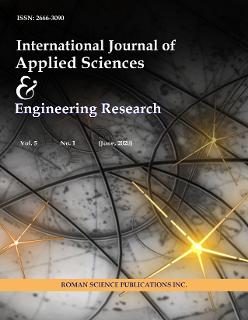 ISSN: 2277-9442

This journal also publishes Open Access articles
AIM AND SCOPE


IJASER aims to publish Original, Theoretical and Practical progresses in the field of Science and Technology which include core domain of Science disciplines of in the Engineering disciplines of Computer Science and Engineering, Civil, Electrical, Chemical, Mechanical, Petroleum, and Systems Engineering AND Biological Sciences, Chemistry, Earth Sciences, and Physics, Mathematics.
International Journal of Applied Science and Engineering Research offers authors rigorous peer review, timely publication, and maximum visibility globally.
Manuscripts must be submitted in English, and researchers/authors should ensure that the article has not been published or submitted for publication elsewhere in any format, and that the contents and information gathering do not raise any publication ethics. The authors confirm that the information provided is not contradictory and follows general publishing ethics guidelines. At least two referees, who are well-known experts in their fields, review each article rigrously.


Papers relating directly or indirectly to all aspects of these fields are also welcome to submit. IJASER is intended to provide a forum for the expression of new ideas, as well as a place for the exposition of these areas of knowledge that can advance the understanding of science and engineering issues and concerns.

Submission: Authors are requested to submit their papers electronically to editorial@ijaser.com .

Frequency : Bi-annaul

Article Processing Charges: The journal publishes articles in Open Access Model. In this Open Access model, the publication cost should be covered by the author's institution or research funds. These Open Access charges replace subscription charges and allow the publishers to give the published material away for free to all interested online visitors. The Article Processing charges for in the journal is $ 800.
License: Creative Commons 4.0

Plagiarism: All the articles will be check through Turnitin Software before the publication of the journal.
Review Process: Any article submitted to the journals of IJASER for Publications will be subjected to the following course of editorial and peer review process.
All submitted articles will be initially studied by the editorial board for suitability of the article to be included in the peer review process. Articles that are not suitable will be rejected at this stage itself and the concerned authors will be informed on the same. If an article is found to be suitable its submitted to the concerned Editor who inspects the manuscript, if he determines that the manuscript is not of sufficient quality to be submitted for review or if the submitted manuscript is out of scope of the journal he reject the submission without any further processing. An email will be sent to the concerned author informing about the rejection of manuscript.
Retractions: Retractions are considered by journal editors in cases of evidence of unreliable data or findings, plagiarism, duplicate publication, and unethical research. We may consider an expression of concern notice if an article is under investigation. All retraction notices will explain why the article was retracted. The retraction procedure depends on the publication stage of the article.
Important Tools: English Grammar Checker Plagiarism Checking Proofreading
online submission

Editorial Board
Publications Ethics and Publication Malpractice Statement
Vol. 6 No. 1 (June, 2021) Vol. 6 No. 2 (December, 2021)
Vol. 5 No. 1 (June, 2020) Vol. 5 No. 2 (December, 2020)
Vol. 4 No. 1 (June, 2019) Vol. 4 No. 2 (December, 2019)
Vol. 3 No. 1 (June, 2018) Vol. 3 No. 2 (December, 2018)
Vol. 2 No. 1 (June, 2017) Vol. 2 No. 2 (December, 2017)